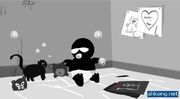 Vinnie's Cat is a cat is a character in Sift Heads 0
When the cat beheads his favorite teddy bear, Mobo, which angered Vinnie to kill the cat by shooting the cat food and sink for water to sprout out making the cat jump out of hiding where Vinnie shoots it. The cat was killed in 1976.
Trivia
They probably didn't have a great of a relationship with each other, as he/she was killed over the issue of a stuffed animal.
Is unknown if Vinnie's cat is male or female.
Ad blocker interference detected!
Wikia is a free-to-use site that makes money from advertising. We have a modified experience for viewers using ad blockers

Wikia is not accessible if you've made further modifications. Remove the custom ad blocker rule(s) and the page will load as expected.