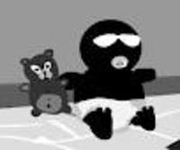 Mobo, the bear, was Vinnie's favorite toy as a baby but in 1976 when he was young his cat beheaded mobo leading Vinnie to avenge him by killing the cat.
This happens in Sift Heads 0 and is the first kill Vinnie ever makes, though non-human.
Vinnie uses a Beretta 92FS to shoot the cat. This caused a lot of debate as to how Vinnie obtained a Beretta 92FS and used it at only two years of age.