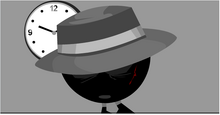 Ben was Vinnie's older brother and his boss. Appeared only in Sift Heads 2.
It was the one who offered target contracts to Vinnie in Sift Heads 2, and a member of the Gray Mafia until he is killed and since then Vinnie works alone.
Ben found and gave Vinnie missions who would come to his office to receive them and would compensate him with money for the work he did. Ben is eventually found in his office, dead, by Vinnie who finds a mysterious note that tells him to come find the assassin herself. Vinnie eventually takes his revenge by killing her.
Ad blocker interference detected!
Wikia is a free-to-use site that makes money from advertising. We have a modified experience for viewers using ad blockers

Wikia is not accessible if you've made further modifications. Remove the custom ad blocker rule(s) and the page will load as expected.